The Transcendental Meditation® (TM) technique has been extensively researched over the past 45 years. It works to reduce stress and strengthen mind-body functioning generally. TM® can thus simultaneously reduce post-traumatic stress (PTS) symptoms and the negative conditions often associated with PTS — depression, anxiety, substance abuse, insomnia, pain. This page and its associated tabs summarize this body of research.
Please see "TM and PTSD White Paper" or "White Paper Summary" for review of all research.
TM differs from cognitively-based therapies in that it works on the neuro-physiological level. TM provides an exceptionally deep level of rest to the body. Because rest facilitates physical and mental healing, this deep level of rest allows the body to resolve stresses that the normal level of rest provided by sleep does not. Through the dual action of deep physiological rest, which neutralizes stress, and increased resilience to stress, the body is able to significantly reduce stress levels over time. As a result, stress-related problems improve.
Increased Physiological Relaxation
Meta-Analysis 32 Studies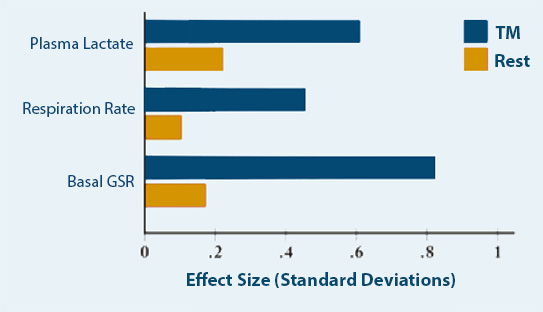 Nine Main Areas of Research on TM for Veterans